<![if !vml]>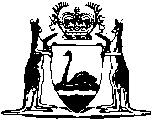 <![endif]>Western Australia
Police Act 1892
Police Appeal Board Regulations
 

 

Reprinted under the Reprints Act 1984 as

at 13 November 2009

<![if !supportMisalignedColumns]>
<![endif]>
Western Australia
Police Appeal Board Regulations
Contents
1.Citation1
2.Terms used1
7.Appeals1
Notes
Compilation table3
Defined terms
 

<![if !vml]><![endif]>

Reprinted under the Reprints Act 1984 as

at 13 November 2009

<![if !supportMisalignedColumns]>
<![endif]>
Western Australia
Police Act 1892
Police Appeal Board Regulations
These regulations may be cited as the Police Appeal Board Regulations 1.
In these regulations, unless the context requires otherwise — 
Act means the Police Act 1892;
Board means the Police Appeal Board constituted under Part IIA of the Act;
secretary means the person appointed by the Minister to act as secretary of the Board;
expressions used in these regulations have the same respective meanings as in the Act.
[3‑6.Deleted: Gazette 16 Mar 2007 p. 973.]
(1)Every appeal under section 33E of the Act is required to be instituted by a notice of appeal given by the appellant to the Secretary within 14 days from the date the punishment, decision or finding appealed against is given.
(2)Every notice of appeal shall — 
(a)be typewritten, and in triplicate;
(b)recite the punishment or decision appealed against;
(c)set out the grounds on which the appeal is made; and
(d)specify distinctly what relief the appellant desires the Board to grant him on appeal.
(3)The appellant shall, in his appeal, state whether he requires any person to be summoned to appear before the Board, or to produce any books, documents, or writings.
(4)The appellant and witnesses who have been summoned to appear before the Board shall be granted the necessary leave of absence to enable them to attend.
(5)If the appellant fails to appear, the Board may determine the appeal on such evidence as is available.
[Appendix deleted: Gazette 16 Mar 2007 p. 973.]
<![if !vml]>

<![endif]>
1This reprint is a compilation as at 13 November 2009 of the Police Appeal Board Regulations and includes the amendments made by the other written laws referred to in the following table. The table also contains information about any reprint.
Citation

Gazettal

Commencement

Police Appeal Board Regulations

25 Mar 1955 p. 556‑9

25 Mar 1955

Reprint 1: The Police Appeal Board Regulations as at 3 Dec 2004

Police Appeal Board (Election) Regulations 2007 r. 30

16 Mar 2007 p. 953-75

16 Mar 2007

Reprint 2: The Police Appeal Board Regulations as at 13 Nov 2009 (includes amendments listed above)

<![if !supportMisalignedColumns]>
<![endif]>
[This is a list of terms defined and the provisions where they are defined. The list is not part of the law.]
Act2
Board2
secretary2