![if !supportAnnotations]><![endif]>
<![if !vml]>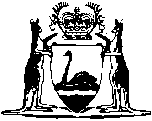 <![endif]>Western Australia
Family Provision Act 1972
Family Provision Regulations 2013
Western Australia
Family Provision Regulations 2013
Contents
1.Citation1
2.Commencement1
3.Minimum value of property deceased derives from stepchild's parent for stepchild to make claim1
Notes
Compilation table2
Western Australia
Family Provision Act 1972
Family Provision Regulations 2013
These regulations are the Family Provision Regulations 2013 1.
These regulations come into operation as follows —
(a)regulations 1 and 2 — on the day on which these regulations are published in the Gazette;
(b)regulation 3 — when the Inheritance (Family and Dependants Provision) Amendment Act 2011 section 9(1)(b) comes into operation.
3.Minimum value of property deceased derives from stepchild's parent for stepchild to make claim
The amount prescribed for the purposes of section 7(1)(eb) of the Act is $517 000.
1This is a compilation of the Family Provision Regulations 2013 and includes the amendments made by the other written laws referred to in the following table.
Citation

Gazettal

Commencement

Family Provision Regulations 2013

15 Jan 2013 p. 80

r. 1 and 2: 15 Jan 2013 (see r. 2(a));
Regulation 3: 16 Jan 2013 (see r. 2(b) and Gazette 15 Jan 2013 p. 79)

Family Provision Amendment Regulations 2015

15 May 2015 p. 1728‑9

r. 1 and 2: 15 May 2015 (see r. 2(a));
Regulations other than r. 1 and 2: 16 May 2015 (see r. 2(b))

<![if !supportMisalignedColumns]>
<![endif]>