<![if !vml]>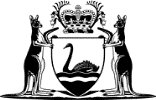 <![endif]> Western Australia
Constitution Amendment (Recognition of Aboriginal People) Act 2015
An Act to amend the Constitution Act 1889.
[Assented to 17 September 2015]
The Parliament of Western Australia enacts as follows:
This is the Constitution Amendment (Recognition of Aboriginal People) Act 2015.
This Act comes into operation on the day on which it receives the Royal Assent.
This Act amends the Constitution Act 1889.
(1)In the Preamble delete "contained:" and insert:
contained;
(2)At the end of the Preamble insert:
And whereas the Legislature of the Colony, as previously constituted, was replaced through this Act with a Parliament, to consist of the Queen, the Legislative Council and the Legislative Assembly with the members of both Houses chosen by the people, and, as constituted, continued as the Parliament of the Colony until Western Australia's accession as an Original State of the Commonwealth of Australia in 1901 and thereafter has been the Parliament of the State;
And whereas the Parliament resolves to acknowledge the Aboriginal people as the First People of Western Australia and traditional custodians of the land, the said Parliament seeks to effect a reconciliation with the Aboriginal people of Western Australia:
Delete section 42.
In section 75 delete the definition of Aborigines Protection Board.
<![if !vml]>

<![endif]>