![if !supportAnnotations]><![endif]>
<![if !vml]>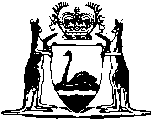 <![endif]>Western Australia
Public Interest Disclosure Act 2003
Public Interest Disclosure Regulations 2003
Western Australia
Public Interest Disclosure Regulations 2003
Contents
1.Citation1
2.Commencement1
3.Joint action1
Notes
Compilation table2
Western Australia
Public Interest Disclosure Act 2003
Public Interest Disclosure Regulations 2003
These regulations may be cited as the Public Interest Disclosure Regulations 2003.
These regulations come into operation on the day on which the Public Interest Disclosure Act 2003 comes into operation.
If an appropriate disclosure of public interest information relating to the same matter is made to more than one proper authority, they may enter into such arrangements in writing with each other as are necessary and reasonable —
(a)to avoid duplication of action;
(b)to allow their resources to be efficiently and economically used to take action;
(c)to achieve the most effective results; and
(d)to ensure that a record of a disclosure is securely kept.
1This is a compilation of the Public Interest Disclosure Regulations 2003. The following table contains information about that regulation.
| | | |
| --- | --- | --- |
| Citation | Gazettal | Commencement |
| Public Interest Disclosure Regulations 2003 | 27 Jun 2003 p. 2405-6 | 1 Jul 2003 (see r. 2 and Gazette 27 Jun 2003 p. 2383) |
| | | |