<![if !vml]>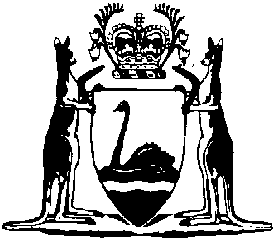 <![endif]>Western Australia
Spent Convictions Act 1988
Spent Convictions (Act Amendment) Regulations 2023
Western Australia
Spent Convictions (Act Amendment) Regulations 2023
Contents
1.Citation1
2.Commencement1
3.Act amended1
4.Schedule 3 amended1
Spent Convictions Act 1988
Spent Convictions (Act Amendment) Regulations 2023
Made by the Governor in Executive Council under sections 16 and 33 of the Act.
These regulations are the Spent Convictions (Act Amendment) Regulations 2023.
These regulations come into operation as follows —
(a)regulations 1 and 2 — on the day on which these regulations are published on the WA legislation website;
(b)the rest of the regulations — on the day after that day.
These regulations amend the Spent Convictions Act 1988.
(1)In Schedule 3 clause 1(1) in the Table item 5 delete "Section 18, 19, 20, 22" and insert:
Sections 18, 19, 20 and 22
(2)In Schedule 3 clause 1(1) in the Tableafter item 5 insert:
| | |
| --- | --- |
| 5A. A person who is employed, or who is being considered for employment, as a custodial officer under the Young Offenders Act 1994 section 11(1) or (1a)(a). | Sections 18, 19, 20 and 22 and Division 4 |
| 5B. A person who is employed, or who is being considered for employment, as an officer or employee under the Young Offenders Act 1994 section 11(1a)(b). | Sections 18, 19, 20 and 22 and Division 4 |
| 5C. A person employed in the Department of Justice who is appointed, or is being considered for appointment, as a Juvenile Justice Team Coordinator under the Young Offenders Act 1994 section 36(1). | Sections 18, 19, 20 and 22 and Division 4 |
| 5D. A person employed in the Department of Justice who is assigned, or is being considered for assignment, as a supervising officer under the Young Offenders Act 1994 section 77, 108 or 139. | Sections 18, 19, 20 and 22 and Division 4 |
| 5E. A person who is a member of the council of an Aboriginal community if the council has entered into, or proposes to enter into, a community supervision agreement under the Young Offenders Act 1994 section 17B. | Division 4 |
| 5F. A person appointed as, or nominated as suitable for appointment as, a monitor of a young person who has an Aboriginal background under the Young Offenders Act 1994 section 17C. | Section 18 and Division 4 |
| | |
(3)In Schedule 3 clause 1(1) in the Table item 10 delete "Corrective Services" and insert:
Justice
(4)In Schedule 3 clause 1(1) in the Table item 12 delete "Section 18, 19, 20, 22" and insert:
Sections 18, 19, 20 and 22
K. COLLERAN, Clerk of the Executive Council