![if !supportAnnotations]><![endif]>
<![if !vml]>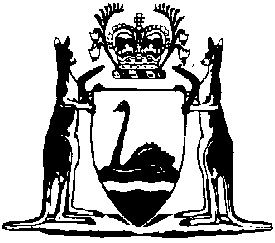 <![endif]>Western Australia
Land Administration Act 1997
Land Administration Amendment Regulations (No. 2) 2023
Western Australia
Land Administration Amendment Regulations (No. 2) 2023
Contents
1.Citation1
2.Commencement1
3.Regulations amended1
4.Regulation 14 amended1
Land Administration Act 1997
Land Administration Amendment Regulations (No. 2) 2023
Made by the Governor in Executive Council.
These regulations are the Land Administration Amendment Regulations (No. 2) 2023.
These regulations come into operation as follows —
(a)regulations 1 and 2 — on the day on which these regulations are published on the WA legislation website;
(b)the rest of the regulations — on the day on which the Land and Public Works Legislation Amendment Act 2023 section 41 comes into operation.
These regulations amend the Land Administration Regulations 1998.
In regulation 14 delete "pastoral lease," and insert:
pastoral lease or diversification lease,
V. MOLAN, Clerk of the Executive Council