<![if !vml]>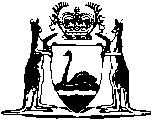 <![endif]>Western Australia
Discharged Servicemen's Badges Act 1967
 

 

Reprinted under the Reprints Act 1984 as

at 10 January 2003

<![if !supportMisalignedColumns]>
<![endif]>
Western Australia
Discharged Servicemen's Badges Act 1967
Contents
1.Short title1
2.Interpretation1
3.Limitation on the wearing of badges1
4.Saving2
Schedule
Notes
Compilation table4
 

<![if !vml]><![endif]>

Reprinted under the Reprints Act 1984 as

at 10 January 2003

<![if !supportMisalignedColumns]>
<![endif]>
Western Australia
Discharged Servicemen's Badges Act 1967
An Act relating to the wearing of badges issued by certain associations of discharged servicemen.
This Act may be cited as the Discharged Servicemen's Badges Act 1967 1.
In this Act, "discharged servicemen's association" means a body specified in the Schedule.
3.Limitation on the wearing of badges
(1)A person who is not a member of that association shall not, without lawful excuse, wear a badge, or a colourable imitation of a badge, issued by a discharged servicemen's association for the purpose of identifying its members.
Penalty: $40.
(2)The provisions of subsection (1) do not apply to a person who, having been a member of a discharged servicemen's association, has been excluded from membership, by operation of its rules, unless he has been served, either personally or by pre-paid registered post, with notice of the fact that he has been so excluded.
Nothing in this Act affects the operation of the Returned Servicemen's Badges Act 1953.
section 2
Totally and Permanently Disabled Soldiers' Association of Australia (W.A. Branch) Inc.
The Limbless Soldiers' Association of W.A. (Inc.).
Australian Flying Corps and Royal Australian Air Force Association (Western Australia Division) Incorporated.
Australian Legion of Ex‑servicemen and Women Incorporated West Australian Branch.
1This is a reprint as at 10 January 2003 of the Discharged Servicemen's Badges Act 1967. The following table contains information about that Act.
| | | | |
| --- | --- | --- | --- |
| Short title | Number and year | Assent | Commencement |
| Discharged Servicemen's Badges Act 1967 | 58 of 1967 | 5 Dec 1967 | 5 Dec 1967 |
| | | | |